We Are the Best Full-Service Web Design & Development Firm in the MENA Region

We are excited to share our success with you: this year, our web design & development company has been awarded
the Best Full-Service Web Design & Development Firm in the MENA region by New World Report. Our creative ways of utilizing every possible design and technological boundary to your advantage and creating experiences that benefit you and your customers are worthy of professional recognition, instilling you, our dear client, even more confidence that you've chosen the right company and a reliable partner in the digital development of your business.
New World Report is an insightful and informative business news platform providing readers throughout the Americas with business advice to aid business progress, success stories aimed to inspire, and trends and innovations to support business growth and continuity. This year, the Branders Pro team has the honor of being selected for the Software and Technology Award that looks to acknowledge the efforts at sustaining excellence and exhibiting long-term dedication to the development and advancements in technology.
The internet is full of wonderful websites that are not only great examples of modern design but also successfully utilize UX/UI, information architecture, and conversion rate optimization strategies. That's why, as a premium full-service digital agency, Branders Pro simply can't afford to create less-than-amazing web solutions. This delightful aspect of our company means the difference between winning your appreciation and facing your dissatisfaction. And winning your loyalty & appreciation is the highest award we can receive.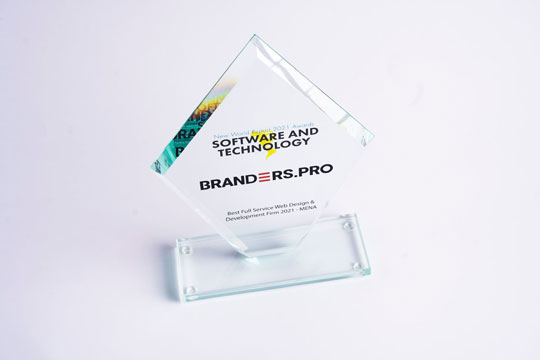 So, what does an "award-winning web design & development company" really mean? For us, it is the title that is, above all, substantiated by your trust and recognition. We see the outcome inspired by your business goals to be as much your creation as it is ours. Inspired by you, we inspire your customers to engage with your business through remarkable experiences in the digital realm. Each project transforms us as a team in terms of ideas, details, and challenges. So does it your business. This kind of cooperation is the ultimate expression of creativity that yields truly amazing results.
We are immensely grateful for the professional appreciation of our work. This inspires us to provide even more exceptional web products and services for you, our dear client. Our team is on a mission to 'wow' your visitors from the second they land on your home page, empowering your company through the impact of creative web design and development so that you get the most out of your business.
Let's have the journey to success together!
When citing, referencing, or reposting any part of or the entire article, be sure to keep the link to the original.
Designing a new website?
Redesigning an existing one?
Our team is ready to help. Let's discuss your project.
contact us